Family Medicine- Physician
Updated: Nov, 2023
Submit your name, email, and C.V. below to inquire about this position.
"*" indicates required fields
---
Family Medicine physician wanted to join our growing, well-respected group with the full support of our award-winning hospital system, St. Elizabeth Healthcare. Join the St. Elizabeth team and enjoy a competitive compensation and benefits package, a great place to live and work and a very substantial referral base.
The Family Medicine Physician is primarily responsible for providing patient care services, including assessing, diagnosing, prescribing, treating, and educating patients. The Family Medicine Physician works closely with other clinicians in a team approach to patient care. The Family Medicine Physician is a highly visible position that is always responsible for creating a positive impression with patients, administration, and others he/she encounters, both in person and on the phone.
The Family Medicine Physician is accountable for activities that support meeting St. Elizabeth Physicians' financial goals and objectives. The Family Medicine Physician is responsible to support all members of the Administrative and Management Teams.
Must have graduated from a professional school and completed in good standing an accredited post-graduate family medicine residency training program.  Two+ years of experience which can include residency training is required. Must be able to obtain a state license in which you will practice as a family medicine physician. Must be and remain board certified (with a lapse of no longer than a year) in principal practice specialty or become and remain board certified (with a lapse of no longer than a year) within six years of completion of post-graduate medical training.  Board certification must be recognized by the American Board of Medical Specialties or the American Osteopathic Association.
St. Elizabeth Physicians is a physician led multi-specialty physician group organization consisting of 451 physicians, 244 advanced practice providers and more than 2,200 non-provider associates. We are very proud of our culture around physician wellness and our high physician engagement and satisfaction scores. St. Elizabeth Physicians serves more than 364,000 patients in our more than 165 conveniently located practices in Kentucky, Indiana and Ohio. In partnership with St. Elizabeth Healthcare, we are transforming how care is delivered in our region.
We are a mission and values driven organization, focused on patient-centered care, accountability, community, innovation, teamwork and excellence. St. Elizabeth is a regional healthcare provider continually recognized as one of the nation's best. Our mission is to ensure our patients receive comprehensive and compassionate care – anywhere. St. Elizabeth Physicians is an Equal Opportunity Employer and values the diversity of our associates.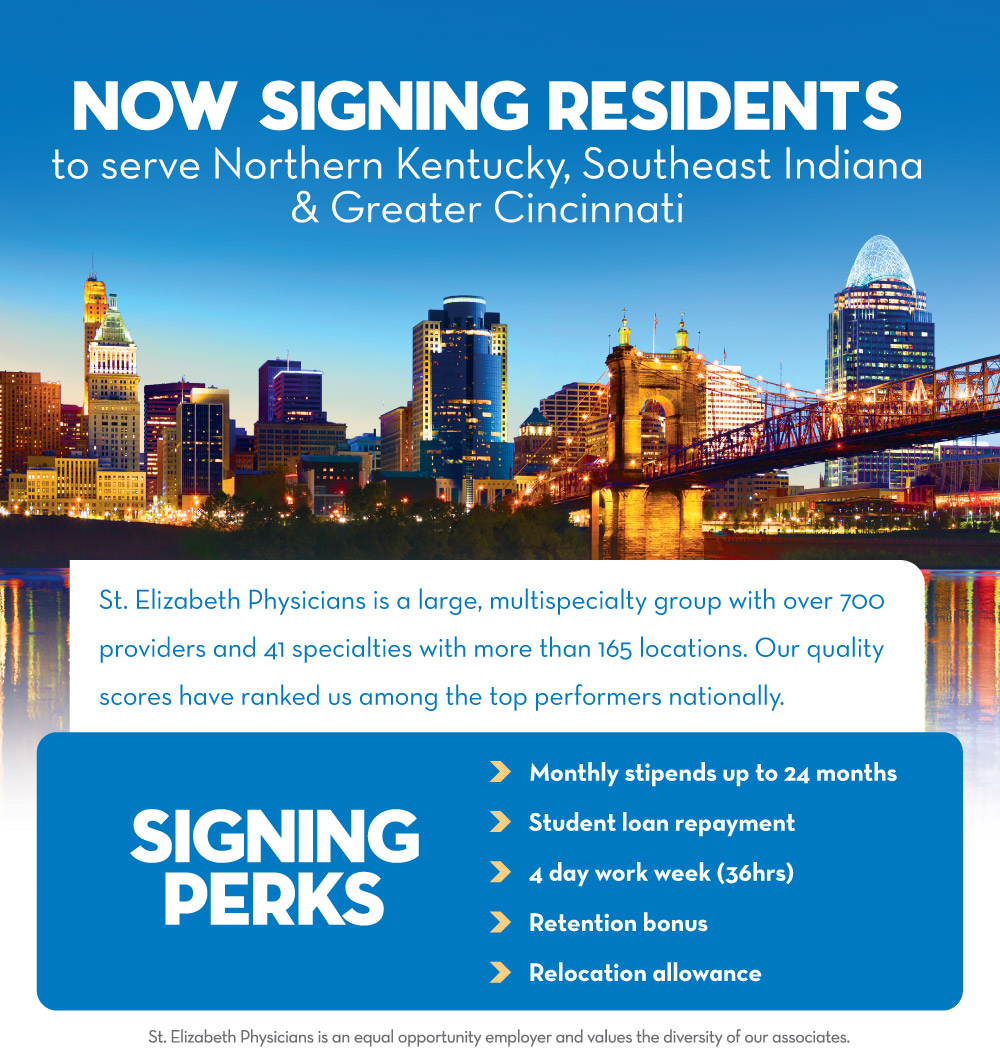 To discuss this position further, please contact Molly Kammler at Molly.Kammler@stelizabeth.com
Molly Kammler
Physician Recruiter
St. Elizabeth Physicians
Molly.Kammler@stelizabeth.com